28.07.2022 – Shubham, Jagadguru Kripalu Chikitsalaya Vrindavan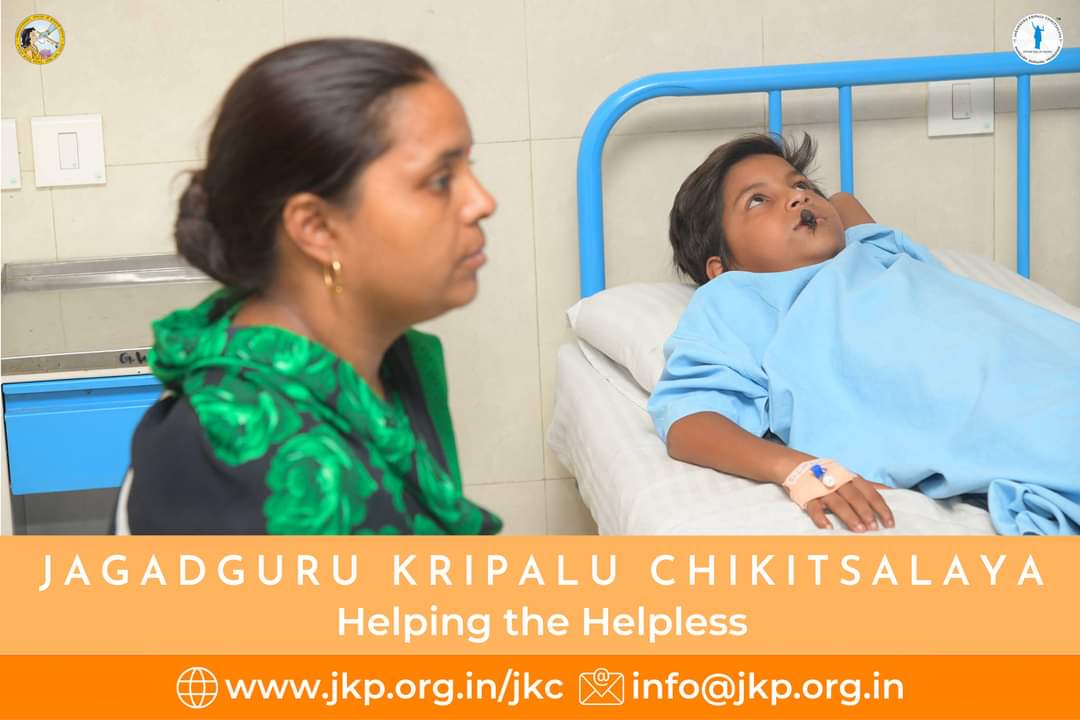 28.07.2022 – Shubham, Jagadguru Kripalu Chikitsalaya Vrindavan
A 13 year old young boy named Shubham was recently brought to Jagadguru Kripalu Chikitsalaya in Vrindavan. His parents brought him because he had a rapidly growing black colored mass (you can see in the picture) on his lower lip. It had been growing for 2 months, prior to his coming to JKC.
On the 26th June, under local anesthesia and sedation, his lower lip mass was removed. The minor surgery was a success and he went home after 48 hours. After testing, the report that came back showed it as 'benign vascular mass'. Thus, everything was a success and this little boy can return to a normal life.
In this set of pictures, you will see how happy he is after being able to have such a sweet smile again.
His primary doctor is our JKC Doctor, Dr. Amit Lamgade and the Visiting Surgeon from Delhi was Dr. Anil Lamba.
Jagadguru Kripalu Parishat is thankful to the Doctors and other caregivers for all their amazing and selfless efforts.
Watch the amazing NEW documentary about the service of Jagadguru Kripalu Chikitsalaya at https://youtu.be/zNradTBfnv0
Please visit www.jkphospitals.org.in for more information about our Charitable Hospitals.
More information:
Jagadguru Kripalu Parishat runs three charitable hospitals in India. These three, Jagadguru Kripalu Chikitsalaya in Pratapgarh, Barsana and Vrindavan help to serve hundreds of thousands of impoverished patients every year. All three hospitals are multi-facility hospitals that provide allopathy, homeopathy, naturopathy and physiotherapy medical services.
Jagadguru Shri Kripalu Ji Maharaj, lovingly called Shri Maharajji by His devotees, is the founder of Jagadguru Kripalu Parishat and Jagadguru Kripalu Chikitsalaya. He dedicated his entire life to inspiring souls on the path of devotion to God and service to humanity. These three hospitals exist mainly due to His guidance and inspiration. All the Doctors, Caregivers and Administrators work without a salary with the sole objective of serving selflessly.
The Presidents of Jagadguru Kripalu Parishat also lead and manage Jagadguru Kripalu Chikitsalya in all three locations. H.H. Sushri Dr. Vishakha Tripathi Ji, H.H. Sushri Dr. Shyama Tripathi Ji and H.H. Sushri Dr. Krishna Tripathi Ji work daily to ensure that the running of these three hospitals continues in the most effective manner so the services reach those most in need. They provide the guidance, support and care to the team running the hospitals and also visit the hospitals regularly.
Noticing the lack of medical facilities in the Pratapgarh district of Uttar Pradesh, JKP started its first fully charitable hospital in Mangarh village. JKC Mangarh was inaugurated on 5th November, 2003. This hospital has proved to be a boon for the local residents who don't have anywhere else to go for medical care or are unable to afford it. The hospital serves 600 to 700 patients daily. JKC, Barsana was inaugurated a few years later and JKC, Vrindavan was inaugurated in 2015.
The goal of Jagadguru Kripalu Chikitsalaya is to provide charitable medical services to the needy who suffer due to lack of affordable medical facilities. Towards this goal, three 100% free charitable hospitals have been established where every aspect of medical treatment is provided free of charge including doctor's consultation, lab tests, X-Rays, emergency services and medication.
Call 8882480000 for more information or email us at info@jkp.org.in
Download our Jagadguru Kripalu Parishat OFFICIAL APP – Sanatan Vedic Dharm APP from iOS or Google Play store today!