Jagadguru Kripalu Chikitsalaya, Pratapgarh – Patient: Vikas Yadav, August 2022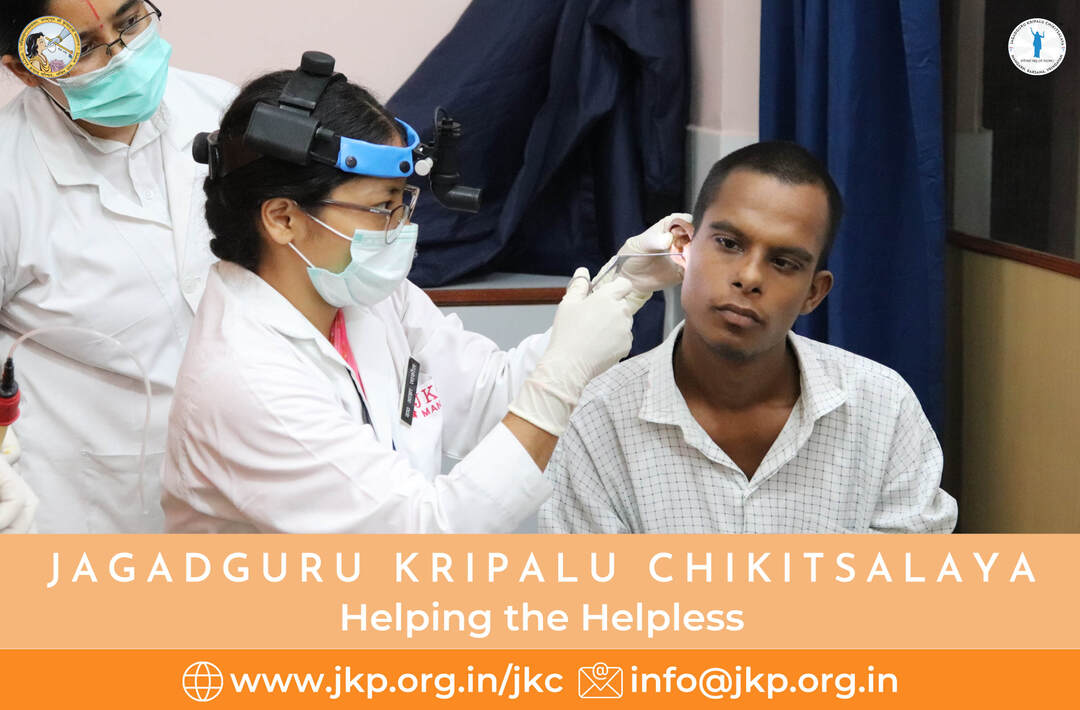 Jagadguru Kripalu Chikitsalaya, Pratapgarh – Patient: Vikas Yadav, August 2022
A young man named Vikas Yadav was recently being treated at Jagadguru Kripalu Chikitsalaya Pratapgarh for a condition known as Aural Myiasis.  In simple terms, he had maggots inside his ear.
Unfortunately a lot of impoverished individuals live in unhygienic conditions which can sometimes lead to this unhealthy situation.  Vikas also has a mental disability, which means he cannot take care of himself.  His mother takes care of him full time.
According to Dr. Aagya, who is a Volunteer Physician at JKC, Vikas has had ear discharge (CSOM) since childhood.  It has not been treated properly and has resulted in this painful health condition.  Dr. Aagya and her team removed the maggots and then cleaned the ear with Hydorgen Peroxide.  The patient was then given antibiotics, which he needs to take at the hospital daily.  JKC does this as his living conditions are unclean and so to ensure he gets well, he is asked to come to the hospital daily to take the medication. His ear is also being cleaned everyday for a few days.
His mother, who was extremely relieved after her son's treatment, said that without the help of Jagadguru Shri Kripalu Ji Maharaj's hospital, Jagadguru Kripalu Chikitsalaya, her son would not have got better.  She is very grateful for all the help JKC gives to impoverished patients.
We wish her son the very best health.  If you would like to support Jagadguru Kripalu Parishat and this important service to the community, please do go to www.jkp.org.in/philanthropy and do donate what you can today!
Thank you for your support.
More information:
Jagadguru Kripalu Parishat runs three charitable hospitals in India. These three, Jagadguru Kripalu Chikitsalaya in Pratapgarh, Barsana and Vrindavan help to serve hundreds of thousands of impoverished patients every year. All three hospitals are multi-facility hospitals that provide allopathy, homeopathy, naturopathy and physiotherapy medical services.
Jagadguru Shri Kripalu Ji Maharaj, lovingly called Shri Maharajji by His devotees, is the founder of Jagadguru Kripalu Parishat and Jagadguru Kripalu Chikitsalaya. He dedicated his entire life to inspiring souls on the path of devotion to God and service to humanity. These three hospitals exist mainly due to His guidance and inspiration. All the Doctors, Caregivers and Administrators work without a salary with the sole objective of serving selflessly.
The Presidents of Jagadguru Kripalu Parishat also lead and manage Jagadguru Kripalu Chikitsalya in all three locations. H.H. Sushri Dr. Vishakha Tripathi Ji, H.H. Sushri Dr. Shyama Tripathi Ji and H.H. Sushri Dr. Krishna Tripathi Ji work daily to ensure that the running of these three hospitals continues in the most effective manner so the services reach those most in need. They provide the guidance, support and care to the team running the hospitals and also visit the hospitals regularly.
Noticing the lack of medical facilities in the Pratapgarh district of Uttar Pradesh, JKP started its first fully charitable hospital in Mangarh village. JKC Mangarh was inaugurated on 5th November, 2003. This hospital has proved to be a boon for the local residents who don't have anywhere else to go for medical care or are unable to afford it. The hospital serves 600 to 700 patients daily. JKC, Barsana was inaugurated a few years later and JKC, Vrindavan was inaugurated in 2015.
The goal of Jagadguru Kripalu Chikitsalaya is to provide charitable medical services to the needy who suffer due to lack of affordable medical facilities. Towards this goal, three 100% free charitable hospitals have been established where every aspect of medical treatment is provided free of charge including doctor's consultation, lab tests, X-Rays, emergency services and medication.
Call 8882480000 for more information or email us at info@jkp.org.in
Download our Jagadguru Kripalu Parishat OFFICIAL APP – Sanatan Vedic Dharm APP from iOS or Google Play store today!