Jagadguru Kripalu Chikitsalaya, Barsana – Patient Mrs Hawasi, February 2023
Jagadguru Kripalu Chikitsalaya, Barsana – Patient Mrs Hawasi, February 2023 A previous patient, Mrs Hawasi was recently being treated at Jagadguru Kripalu Chikitsalaya, Barsana. She is about 62 years old and she had come for follow up treatment with JKC, Barsana volunteer physician, Dr. Pragya Upadhyaya. She had earlier been diagnosed with kidney stones in … […]
February 7, 2023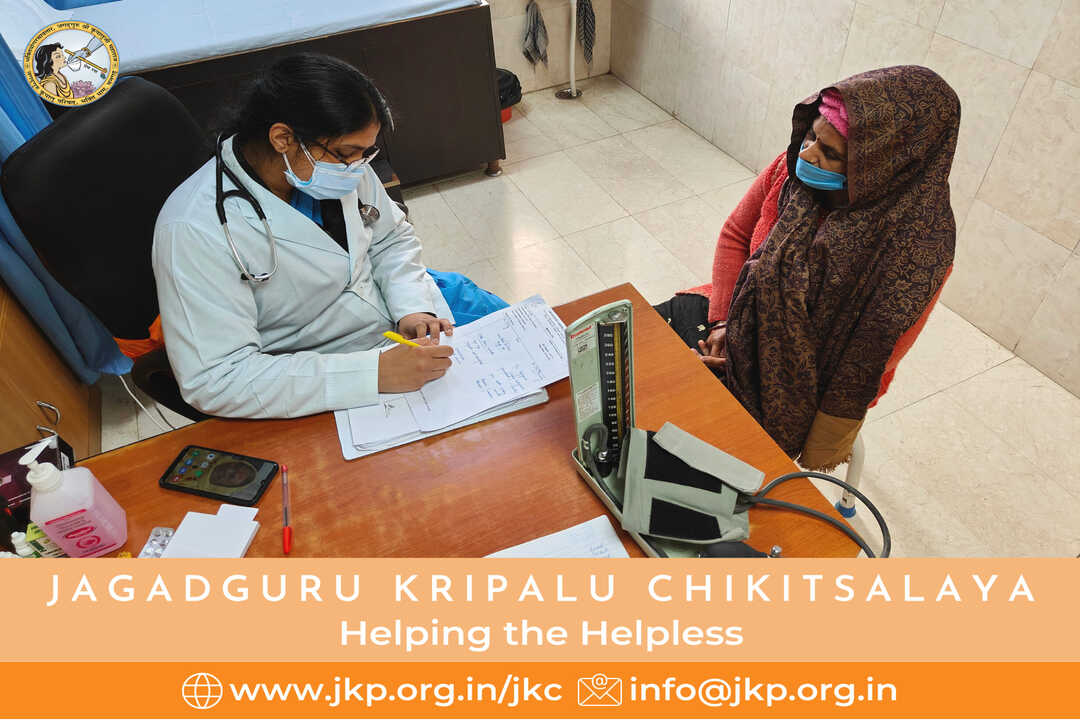 Jagadguru Kripalu Chikitsalaya, Vrindavan – Patient: Mrs Manju, 21.01.2023
Jagadguru Kripalu Chikitsalaya, Vrindavan – Patient: Mrs Manju, 21.01.2023 Mrs Manju from Mathura came to Jagadguru Kripalu Chikitsalaya, Vrindavan for the first time. She is about 40 years old and she is suffering from difficulty breathing. Due to the cold weather, patients such as Mrs Manju come to JKC because they suffer from cough, chest … […]
February 7, 2023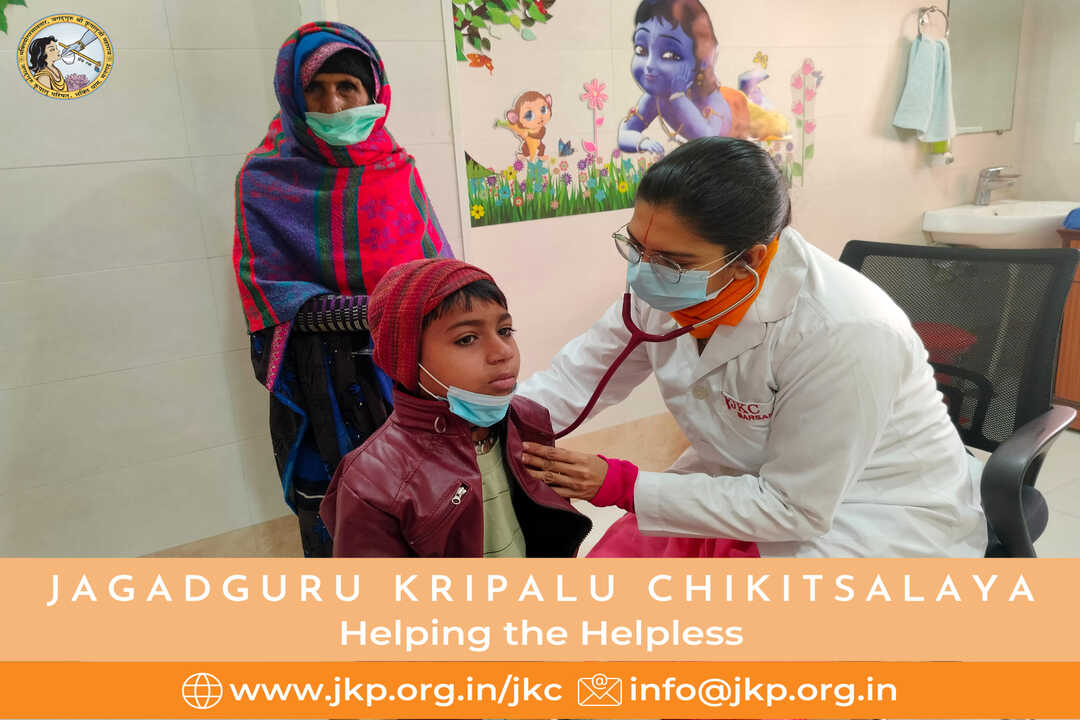 Jagadguru Kripalu Chikitsalaya, Barsana – Patient Amit, January 2023
Jagadguru Kripalu Chikitsalaya, Barsana – Patient Amit, January 2023 8 year old Amit and his mother were at Jagadguru Kripalu Chikitsalaya, Barsana recently. Amit was suffering from respiratory problems. This is a very common occurrence during the cold weather, especially for kids who are malnourished. Dr Amrita, a volunteer physician at Jagadguru Kripalu Chikitsalaya prescribed … […]
February 7, 2023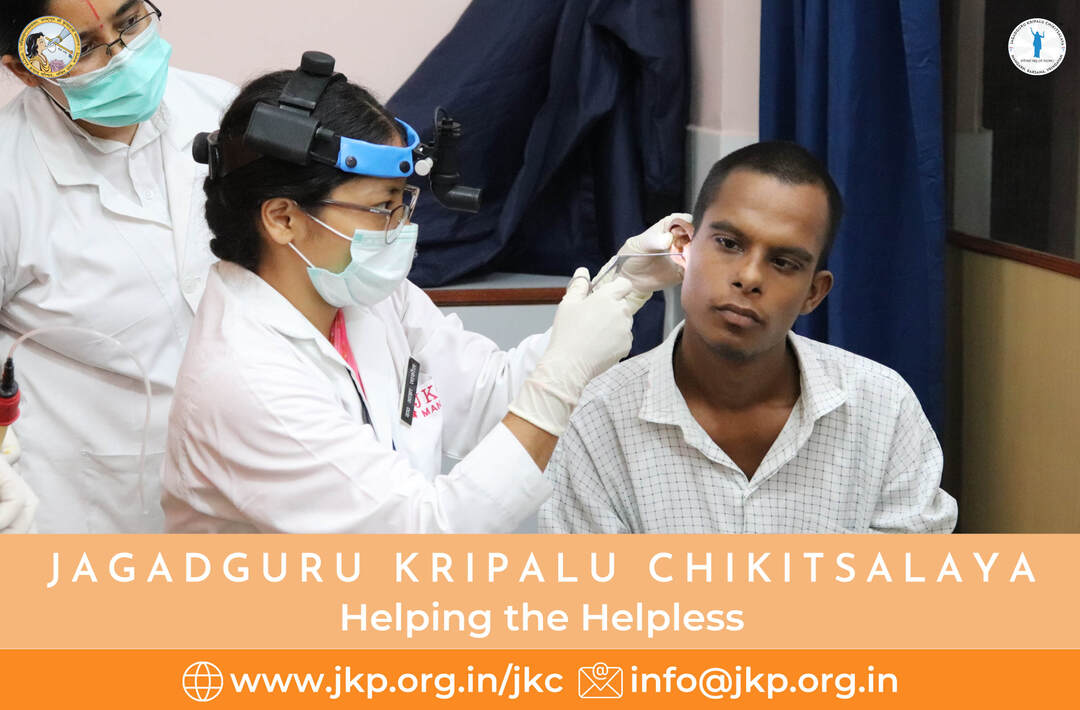 Jagadguru Kripalu Chikitsalaya, Pratapgarh – Patient: Vikas Yadav, August 2022
Jagadguru Kripalu Chikitsalaya, Pratapgarh – Patient: Vikas Yadav, August 2022 A young man named Vikas Yadav was recently being treated at Jagadguru Kripalu Chikitsalaya Pratapgarh for a condition known as Aural Myiasis.  In simple terms, he had maggots inside his ear. Unfortunately a lot of impoverished individuals live in unhygienic conditions which can sometimes lead … […]
August 26, 2022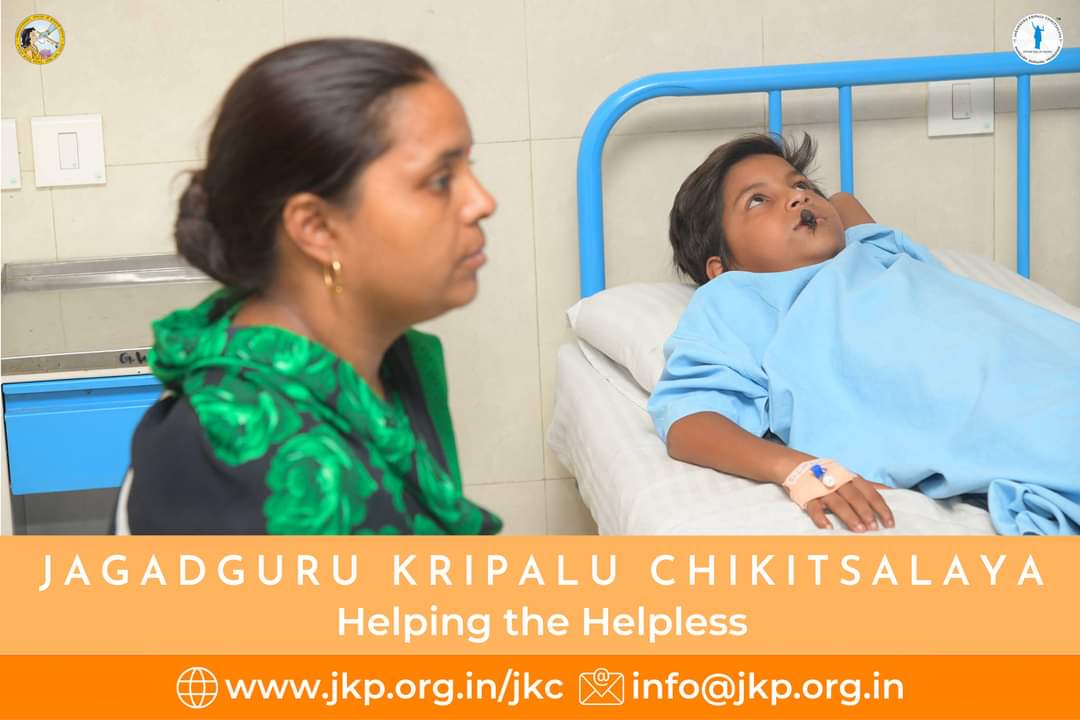 28.07.2022 – Shubham, Jagadguru Kripalu Chikitsalaya Vrindavan
28.07.2022 – Shubham, Jagadguru Kripalu Chikitsalaya Vrindavan A 13 year old young boy named Shubham was recently brought to Jagadguru Kripalu Chikitsalaya in Vrindavan. His parents brought him because he had a rapidly growing black colored mass (you can see in the picture) on his lower lip. It had been growing for 2 months, prior … […]
August 10, 2022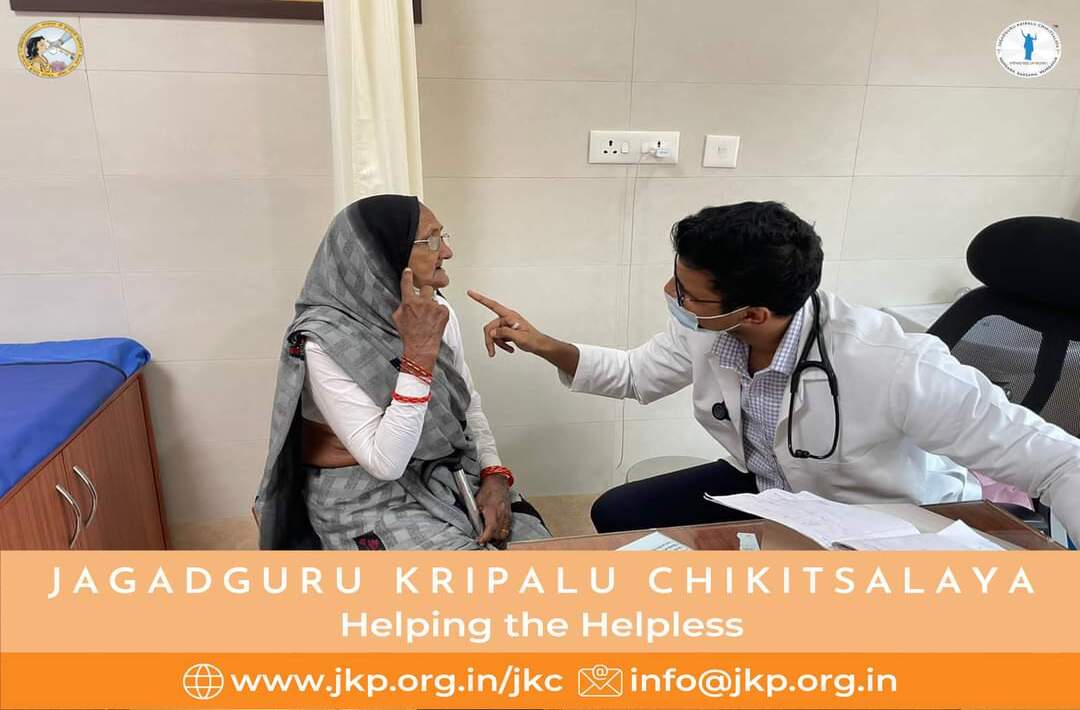 20.07.2022 – Jagadguru Kripalu Chikitsalaya Barsana
20.07.2022 – Jagadguru Kripalu Chikitsalaya Barsana We want to share a recent update from Jagadguru Kripalu Chikitsalaya, Barsana.  Our JKC Doctor, Dr. Madhav recently treated an impoverished woman in her 70s, who was unable to speak or eat properly due to an irritated nerve in her mouth.  She was in such terrible pain that it … […]
August 10, 2022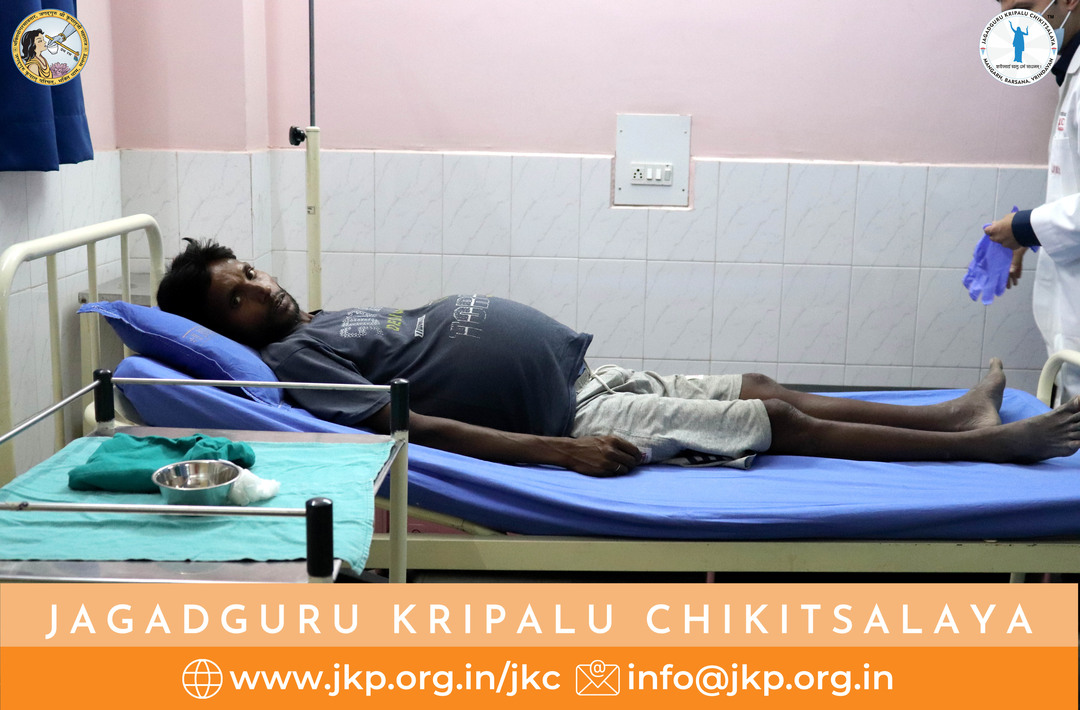 16.06.2022 – Mr Sanjay Gautam, Jagadguru Kripalu Chikitsalaya, Pratapgarh
16.06.2022 – Mr Sanjay Gautam Jagadguru Kripalu Chikitsalaya, Pratapgarh During a recent visit to JKC, Mangarh, we met with a patient named Mr Sanjay Gautam, who unfortunately has Liver Cirrhosis (meaning liver failure). Due to this, his stomach is filled with fluid. He has many other ailments which are causing him a lot of pain. … […]
August 10, 2022
Three Main Hospitals That Serve The Needy
To provide medical facilities to the most needy, Jagadguru Kripalu Parishat runs three Jagadguru Kripalu Chikitsalayas in three rural areas of Uttar Pradesh - Mangarh in Pratapgarh district of UP, Barsana in Mathura district of UP and Vrindavan, also in Mathura district of UP. All three hospitals are a multi-facility hospitals providing free services of allopathy, homeopathy, naturopathy, physiotherapy, and ophthalmology and dental treatment.
Our Founder
Jagadguru Shri Kripalu Ji Maharaj, founder of Jagadguru Kripalu Parishat and the inspiration behind the JKC hospitals,dedicated his entire life to inspiring souls on the path of devotion to God and service to humanity. Through enlightening discourses and chanting of the holy name, Jagadguru Shri Kripalu Ji Maharaj made unceasing efforts to reveal the true philosophy from the Vedic scriptures to mankind in the simplest form possible so that they may attain their true goal of God Realisation.
Jagadguru Kripalu Parishat Presidents
Jagadguru Kripalu Chikitsalaya is established by Jagadguru Kripalu Parishat (JKP). The Presidents of Jagadguru Kripalu Parishat work daily to ensure that the running of these three hospitals continues in the most effective manner to reach as many of those in need as possible. They provide guidance, support and care to the team running the hospitals and also visit patients in the hospitals regularly.
our history
Noticing the lack of medical facility in Pratapgarh district of Uttar Pradesh, JKP started its first fully charitable hospital in Mangarh village. JKC Mangarh was inaugurated on 5th November, 2003. This hospital has proved to be a boon for the local residents who don't have anywhere else to go for medical care or are unable to afford it. The hospital serves 600 to 700 patients daily. JKC, Barsana was inaugurated a few years later and JKC, Vrindavan was inaugurated in 2015.
Our Goal
Jagadguru Kripalu Chikitsalaya was established by Jagadguru Kripalu Parishat (JKP) and by the inspiration of Jagadguru Shree Kripalu Ji Maharaj, the fifth original Jagadguru in the history of the world. Its goal is to provide charitable medical services to the needy who suffer due to lack of affordable medical facilities. Towards this goal, three 100% free charitable hospitals have been established where every aspect of medical treatment is provided free of charge including doctor's consultation, lab tests, X-Rays, emergency services and medication.
Support us
Give generously so that JKC can continue to serve those from underprivileged backgrounds. Sponsor medical equipment or specific treatments and other important work provided by the hospitals. You can also volunteer as a Doctor, Nurse etc. Just email info@jkp.org.in with your details. Help the communities we serve through your donations. GIVE TODAY to donate now.
3 Million
Lives Medically Helped
4.2 Millions
Lives Helped by JKP